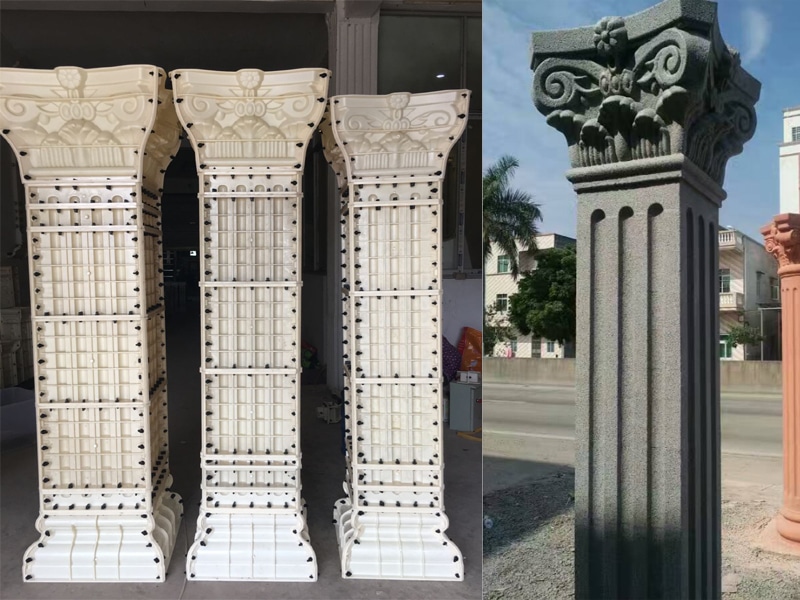 Roman Column Concrete Molds
Type: Square
Height Size: 3.75M/3.85M/3.9M/ Customized
Origin: Zhejiang China
Material: Plastic ABS
Color: Ivory
Parts: Plastic locks
Features: Square type cement column
MOQ: >1PCS
The square of the Roman cement column molds are more atmospheric than the cylindrical,Looks more stout. As same as the cylinder cement molds, The square cement column molds also had 3 parts:Head, Column and Bottom.
Advantages:
1.All the Roman cement column molds have increased the thickness and with ribs.
2.The raw materials using the best plastic ABS from CHIMEI.
3.The most reasonable configuration can be adjusted for any height.
All components:
30 CM square column molds:
Weight: About 48kg/set
Height Size: Head+Column+Bottom=3.75M
Parts:1 Head + 25 CM*11 pcs column + 10 CM*2pcs column +5 CM*1pcs + 1 Bottom + 200pcs Locks
35 CM square column molds:
Weight: About 59kg/set
Height Size: Head+Column+Bottom=3.75M
Parts:1 Head + 25 CM*11pcs column + 10 CM*2pcs column +5 CM*1pcs + 1 Bottom + 400pcs Locks
40 CM square column molds:
Weight: About 63kg/set
Height Size: Head+Column+Bottom=3.85M
Parts:1 Head + 25 CM*11pcs column + 10 CM*2pcs column +5 CM*1pcs + 1 Bottom + 200pcs Locks
50 CM square column molds:
Weight: About 80kg/set
Height Size: Head+Column+Bottom=3.9M
Parts:1 Head + 25 CM*11pcs column + 10 CM*2pcs column +5 CM*1pcs + 1 Bottom + 200pcs Locks