Concrete hexagon hollow blcok Molds for sale, Most used for Planting grass for slope protection in water conservancy construction. Buy any concrete decoration molds just go on LCMOLDS.COM.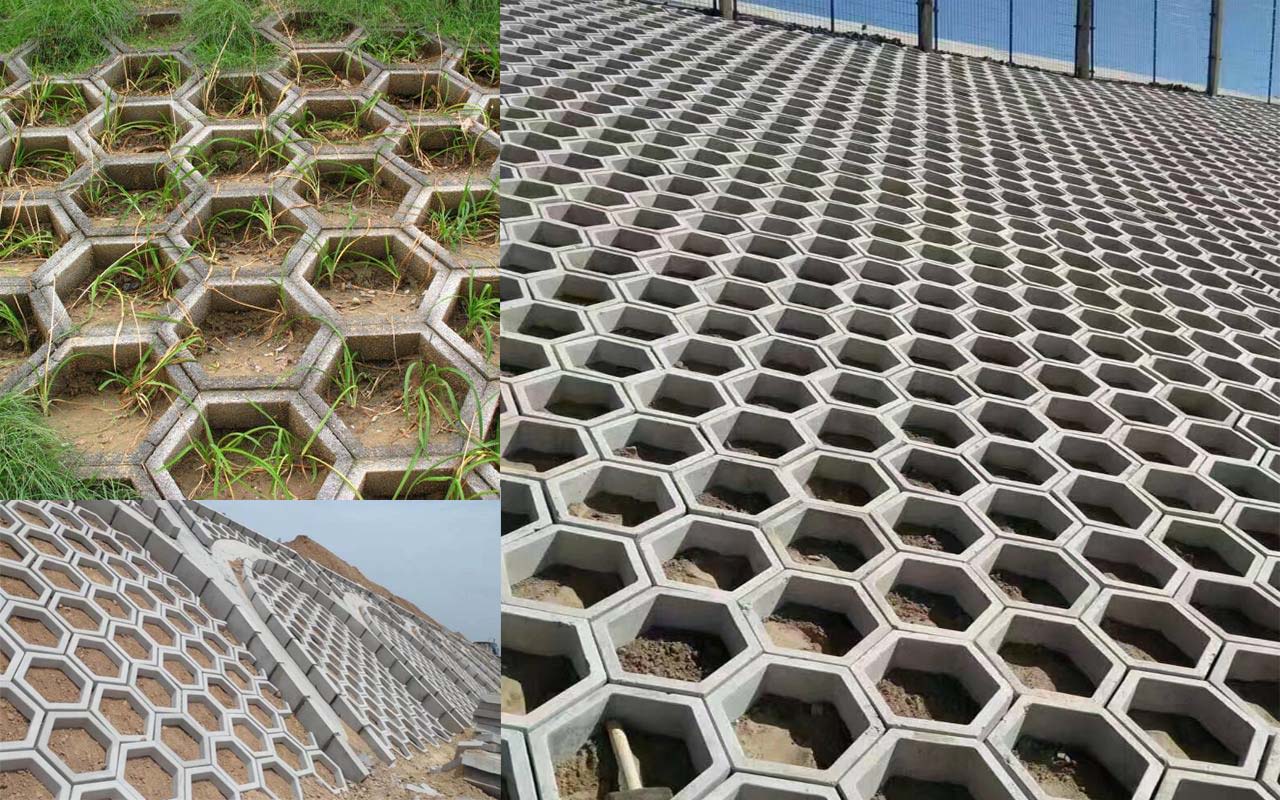 Most of the concrete hexagon block molds use polypropylene plastic as the main raw material. Polypropylene is extremely tough. When demolding concrete products, the mold will not be damaged even if it is beaten harder. Different customers have different requirements on the specifications of the hexagon molds.
Take the most common ecological slope protection as an example. The hexagon is the strongest shape in all graphics. It is the most appropriate to use on ecological slope protection. For ecological slope protection technology, the flood protection and flood control functions of slope protection should be brought into play first. First use the concrete hollow hexagon block molds to make the hexagonal concrete products, and reinforce the bottom of the slope to prevent the soil from sliding down on the slope. After the entire slope is placed. The artificial grass slope is planted in the middle part of the hollow hexagon, so that the grass is grasped by the roots of the soil in the hollow of the hollow hexagon concrete products, so as to achieve the effect of secondary soil consolidation and slope protection.
What type of concrete block molds to use should first consider the specific conditions of the water conservancy project and be effective. Combine the environmental characteristics of the project location and the characteristics of its own construction to determine the choice of slope protection. The surrounding environment of the slope is relatively dry and low in viscosity. Or where the water has a greater impact on the slope, the flat slope protection mold is your best choice. Use flat hexagonal slope protection blocks to protect the entire slope, and the entire surface of the slope can be protected to make the slope stronger . At the tapered slope of the pier or where the water flow is flat, the hollow hexagon blocks or flat hexagon blocks is used for slope protection, which can not only achieve the function of soil protection and slope consolidation, but also beautify the side slope to ensure the long-term development of the slope protection.
Therefore, when selecting concrete hexagon hollow block molds for slope protection, we should constantly innovate and reform the technology of slope stabilization and slope protection according to the actual situation, and constantly use the functions and properties of the hexagonal slope protection mold to further improve the slope protection technology, so that the slope protection can play a better role.